Six Stations of Consciousness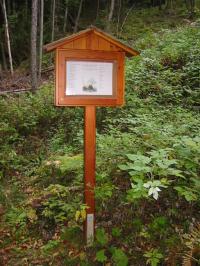 The meditation trail completes the trail of consciousness. Six stations lead the visitors from the cross behind the excavations uphill a steep slope through forest under the rocks all the way to the spring.
The meditation trail has been deliberately chosen as a side way inviting visitors into stillness.
While the marble blocks of the trail of consciousness are of permanent nature, the six stations of the meditative trail are regularly changing as regards content.
Further information & links
Further information available at: www.adfontes.at.
It is our pleasure to send you the brochures available at the Municipal Office of Globasnitz.