Carinthia - Slovenia - Friuli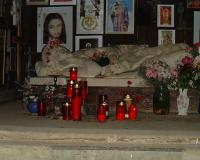 The Hemma pilgrimage trail encloses 24 political municipalities and parishes in Carinthia.
It includes municipalities and parishes in Slovenia, e.g. Črna na Koroškem, Podčetrtek, Trebnje, Škofja Loka.
The Hemmaberg Mountain in the municipality of Globasnitz represents one station along the Hemma Pilgrimage Trail.
The Hemmaberg is one of the oldest pilgrimage sites in Europe. This can be evident from the excavation of an early Christian church complex consisting of five churches.
Basic information on pilgrimage trail
Total length of the pilgrimage trail (approx. 650 km)
Gurk – Admont – Gurk (app. 230 km)
Podčetrtek – Gurk (app. 170 km)
Škofja Loka - Podčetrtek (app. 250 km)
Further information & links