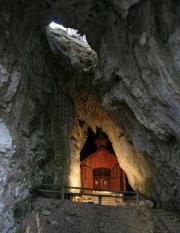 The inhabitants of the Jauntal valley have always been describing the St. Rosalia Grotto on the Mt. Hemmaberg as mystic and mysterious. There are many rumours circulating about the small grotto and its spring.
But the fact is that for thousands of years, people have made pilgrimages to St. Rosalia Grotto in order to find their inner peace and take time for reflection. They have drunk water from the spring attributed "healing powers".
St. Rosalia Grotto is also supposed to have the energy fields similar to those in a well-known pilgrimage town of Lourdes in France.
St. Rosalia Grotto and the spring are open to the public the whole year round.